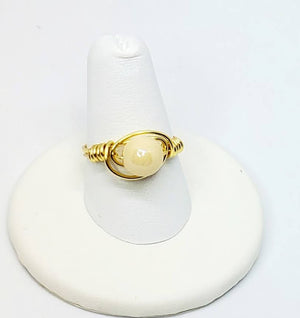 Rings
---
Rings are fun! Rings can be customed made to your ring size. 
Rings are made with wire from the following choices: Sterling Silver, Argenteum Silver, Copper, Brass, Silver Plated Copper, Gold Plated Copper and 14kt Gold Filled. The wire I use never contains nickel which is a signicant source of an allergic response from the skin. As Copper or Brass oxidizes over time, it can leave a greenish tinge on your skin. I use mostly coated wire to prevent this, but if over the time the coating has worn off, you can use clear nail polish to reapply a coating to inside of your ring.
I use Beads, Buttons, Gemstones, Glass, any other materials as the focal point of the ring.