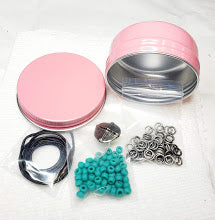 Kits
---
For those of you DIY people or for the DIY people in your life, these kits are a great source of personal accomplishment. Are you one of those people who prefer buying a kit versus trying to find all the components separately, to save yourself time and frustration?. Providing kits for a birthday or girls night out party with intent to make & take as a group will provide a memorable event of laughter, amazement and friendship.
Kits range in skills from age 8+. Most kits can be completed within a 2 hours. Help is available if you get 'stuck'. Instructions with step by step photographs come with the kit. 
Kits include Bracelets, Earrings, Pendants and Necklaces.